It might look like something from a horror film but don't be put off by the monkfish's tough exterior – inside, the sweet taste of the meaty flesh is a delight. Easy to cook for even a novice home chef, this versatile fish is in a class of its own.
WHAT IS MONKFISH?
Belonging to the Lophius genus, the monkfish is a bit of a conundrum. To begin with, monkfish actually refers to a number of different fish, particularly the anglerfish. And although it's a flatfish, it's not technically flat, but it's certainly flatter than any round fish. Confused? You shouldn't be. This character is highly regarded in the kitchen and well worth finding out about.
A demersal species, monkfish buries itself in sediment as a disguise before ambushing its prey. Found in deep waters around the UK and often caught off the coast in northern and western Scotland, south-western England as well as the north-east Atlantic and parts of the North Sea, this fish is a voracious feeder, eating shellfish, seabirds and other fish.
Far from the cutest creature of the deep, the monkfish has scaleless mottled skin, a huge flat head and a gaping mouth filled with teeth. Still, with a sweet and mild taste, and firm, meaty flesh, it is a winner with chefs and dinner party hosts alike.
The monkfish has a flat body that is mottled dark brown and black and a pale underside. Blunt spines sit under the loose skin and the fish has powerful pectoral fins. Rather cleverly designed, the monkfish has a protuberance from the head – almost like a fishing rod – that can be moved in different directions and is used to attract small fish. The monkfish's teeth are hinged, all the better to hold on to prey, and its stomach is expandable, allowing it to eat fish almost as big as itself.
CLICK HERE TO BUY MONKFISH FILLETS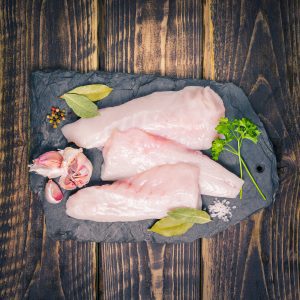 Slow growing, males live for about seven years and females for 13 years, migrating seasonally in spring and early summer to deeper water to spawn and breed. Eggs float on the surface in ribbons of jelly and once hatched the larvae live in mid-water, moving to the seabed when they are about one year old.
Monkfish grow up to 1.4m and to more than 12kg, with the head making up more than half of the total weight.
This fish is available to buy all year round and thanks to sustainable fishing in UK waters, stocks are stable.
The head of the fish provides monkfish cheeks, a delicacy across Europe, while monkfish tail, which is actually the rest of the fish, has a meaty, non-flaky texture. Monkfish is such a unique fish, it's tricky to compare it to any other species. However when it comes to a taste test, the closest flavour comparison is with langoustine.
WHAT'S AVAILABLE?
Common cuts are monkfish fillet, which comes from the tail, and cheeks. Monkfish is usually sold with the head removed and the remaining body is called the tail, which is sold in fillets.
Monkfish fillets are cut away from the backbone and the purple translucent membrane is removed in strips.
Monkfish cheeks, the large soft patches of flesh cut away from under the eye, might be an often overlooked cut but they are a true delicacy with the texture of a scallop.
IS MONKFISH GOOD FOR YOU?
Low in fat and calories, monkfish is also packed with beneficial minerals, protein and vitamins. A good source of selenium, a powerful antioxidant that's good for heart and thyroid health and boosts the immune system, monkfish is also full of brain-boosting vitamins B6 and B12.
Per 100g raw monkfish
Energy 76kcal
Fat 1.5g (of which saturated fat 0.3g)
Protein 14g
Rich in vitamin B12, selenium and phosphorus.
HOW DO YOU COOK MONKFISH?
We have Keith Floyd to thank for the monkfish's rise to culinary fame, after he cooked it on air in the 1980s and the nation fell in love with this fish's succulent flesh.
Easy and versatile to work with in the kitchen, even a beginner home chef couldn't go wrong. Pan fry, barbecue, poach, steam, stew or roast for great results. Just remember to let the fish rest for five minutes before serving and don't overcook, to avoid drying out that tasty flesh.
How to cook monkfish tail with the minimum of effort requires just a pan and a knob of butter. Add the fish to a hot pan for a golden colour and enhance the flavour when serving with a squeeze of lemon.
We have Keith Floyd to thank for the monkfish's rise to culinary fame after he cooked it on air in the 1980s and the nation fell in love with this fish's succulent flesh
Thanks to the robust flesh, one of the best ways to cook monkfish is on the grill or barbecue. Marinate beforehand, to soak up the flavours of accompanying ingredients, and cut into cubes or skewer. Pop on the grill and it couldn't be easier, there you have it – barbecued monkfish.
When cooking monkfish tail, a milky-looking fluid sometimes appears. If you intend to grill, a good tip is to salt the flesh first and pat it dry before cooking.
Try pairing monkfish cheeks with bacon by wrapping a thin layer of meat around the fish before cooking. Or shallow fry with garlic and chillies for an Asian kick of flavour.
Larousse Gastronomique (Hamlyn, 2009) offers a roasted monkfish recipe served with garlic-fried butter mushrooms and a tomato sauce. Alternatively, there are suggestions for monkfish fillet recipes with the fish braised in white wine or served with leeks and cream.
In Fish and Shellfish (BBC Books, 2014), Rick Stein says: "Because monkfish has no bones except the backbone and has firm flesh, it lends itself very well to roasting. Sunday lunch will never be the same again."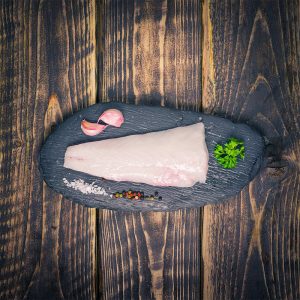 MONKFISH RECIPES
It's such a phenomenally good all-rounder in the kitchen, the possibilities are endless for monkfish. From fine dining to simple suppers, match the firm flesh with robust flavours, such as chilli, soy, Parma ham, chorizo and smoked paprika to enjoy it as its best.
To make cuts go further, look for monkfish fillet recipes for a curry or bouillabaisse.
There are plenty of options for a sauce for monkfish, from lemon and parsley butter to tomato, garlic and ginger. If you're looking for healthy monkfish recipes try a light vinaigrette dressing or monkfish kebabs served with heaps of steamed fresh vegetables on the side.
It's such a phenomenally good all-rounder in the kitchen, the possibilities are endless for monkfish
Monkfish tail recipes make the most of the meaty flesh, baked with tomatoes and peppers and served with a scattering of chopped parsley or butter roasted and accompanied by a sweet pepper risotto. They're really no different to monkfish fillet recipes, so also look for suggestions that work well with crisp Mediterranean flavours, such as rosemary, olives and lemon, or head to the other side of the world for Thai monkfish curry and stir fries with garlic and ginger.
In Fish and Shellfish, Rick Stein features a spicy monkfish curry recipe and a tandoori option with monkfish fillets cut into chunks.
"Preheat the oven to its highest setting. Mix together lemon juice, chilli powder, turmeric and salt. Rub all over the fish pieces and set aside for five minutes.
"For the tandoori taste, put fennel seeds, caraway seeds, chilli powder and salt into a spice grinder and blend to a powder. Transfer the ground spices to a mini food processor with yoghurt, cashew nuts, ginger, garlic and beetroot powder, and blend to a paste.
"Rub the paste all over the marinated fish, then arrange the fish on a wire rack over a roasting tin and place on the top shelf of the oven. Cook for five minutes, or until just cooked through. Sprinkle with chat masala and serve with naans."
The firm texture of the fish means it's the perfect ingredient for goujons or scampi. Cut the meat into chunks, dip in batter and deep fry, then serve with garlic mayonnaise. Or add seafood, beans and tomatoes for a delicious one-pan stew.
Look for these monkfish recipes:
Monkfish in a tomato and garlic sauce
Oven roasted monkfish with potatoes
Bacon-wrapped monkfish
Seafood paella
Fish pie
Monkfish curry
Monkfish stew
Monkfish kebabs