Once you've tried lemon sole you'll wonder why you don't eat it more often. Delicately flavoured, this succulent fish is a treat for the tastebuds. The good news is that it's best when cooked simply, which means minimal effort in the kitchen and more time at the table for a meal to remember.
WHAT IS LEMON SOLE?
First up, don't be fooled by the name. This fish doesn't taste of lemon and isn't even a sole – it's a member of the plaice family and actually more closely related to dab or flounder than Dover sole.
Like most flatfish, lemon sole (Microstomus kitt) has a rather unusual look: a right-eyed fish with a small head and mouth, and smooth, slimy skin with a pearlescent shine. They are usually shades of reddish brown, with a tinge of pink and orange, pink and green flecks and a white underside. The lemon sole has an orange patch behind its pectoral fin.
The fish is widely found throughout the British Isles and northern Europe, feeding on marine worms, prawns, crabs and shellfish. This demersal species prefers a mixed seabed, with small stones and sand. They tend to keep to coastal areas and live at depths of 20-220m. Lemon sole travel to shallower waters to spawn during spring and migrate further out as they mature. The larvae start out similar to those of round fish, but eventually develop their flatfish traits.
The breeding season is from April to August and fully grown lemon sole, at four to five years, reach up to a maximum of 60cm in length.
CLICK HERE TO BUY WHOLE LEMON SOLE
CLICK HERE TO BUY LEMON SOLE FILLETS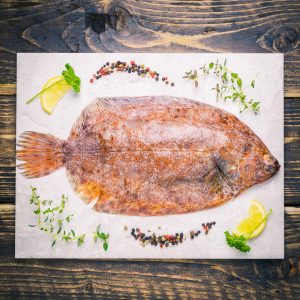 Lemon sole has delicate, sweet white flesh and is best cooked simply, either grilled or fried, and served with a light sauce.
It's thought the lemon part of the name comes from the French "limande", which was used to refer to most flatfish, though the shape of the fish is also similar to a lemon.
As it is often picked up as bycatch by trawl nets looking for turbot, brill and monkfish, there are fewer quota restrictions on lemon sole. Current fishing pressure isn't too heavy and they're a good choice, as long as they're caught on static gear or a seine net. Net-caught lemon sole is more sustainable than trawl caught.
Originally a favourite fish in ancient Rome, lemon sole was preserved and made into pâté or soup, stewed and roasted. During the reign of French king Louis XIV it became a royal dish with fillets made into elaborate dishes, with one created by the Marquise de Pompadour.
WHAT'S AVAILABLE?
Look out for lemon sole fillets and whole lemon sole.
Lemon sole fillets are cut from the head to tail of larger fish, while whole lemon sole can be eaten off the bone.
IS LEMON SOLE GOOD FOR YOU?
Rich in protein, vitamin B, phosphorous and iodine, lemon sole is an excellent source of protein and low in fat and saturated fat. It's ideal for anyone keeping an eye on cholesterol levels and is packed with B12, needed for healthy blood, and B3 for good skin.
Per 100g raw lemon sole
Energy 73kcal
Fat 0.7g (of which saturated fat 0.16g)
Protein 16.7g
Rich in vitamin B12, niacin, phosphorus and selenium.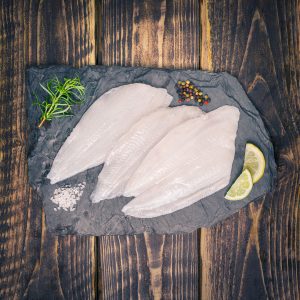 HOW DO YOU COOK LEMON SOLE?
With its distinctive delicate flavour and white tender meat, lemon sole is much in demand by chefs.
It's very easy to cook at home if you're looking for a simple dish with an elegant taste.
Lemon sole is easy to bake, steam or grill. Just be careful not to overcook the fish as it is very lean. Cook on a high temperature and keep the skin intact to limit any risk of overcooking.
Cooking whole lemon sole couldn't be easier. Simply trim the fins off, rub in some oil, season and you're all set.
Asian steamed flatfish recipes featuring lemongrass, ginger and coriander work particularly well with lemon sole
The best way to cook lemon sole is with simple sauces as that mild, sweet taste can be easily overpowered. Lightly season with salt and peppercorns and serve with a white wine sauce or mild tasting cheese sauce for a delicious, healthy dish. Alternatively try a herb and lemon sauce or light creamy sauce to best complement the flesh of the lemon sole.
A good baked recipe gently cooks the fish on a bed of tomatoes and fresh herbs, and then it's served with a squeeze of lemon and chopped parsley.
The secret to cooking lemon sole with the skin on is to rub the fish with olive oil and season it with salt and pepper, then grill. When the fish is cooked, pull back the crispy skin to reveal the soft, tender flakes of fish underneath.
If you're interested in cooking fillets, they can be dusted in seasoned flour or breadcrumbs and fried. They are delicious with lemon zest mashed potato. Or try rolling up the fillets with pancetta and baking them with baby tomatoes and pine nuts.
Asian steamed flatfish recipes featuring lemongrass, ginger and coriander work particularly well with lemon sole.
In Fish and Shellfish (BBC Books, 2014), Rick Stein suggests coating small pieces of lemon sole fillet in breadcrumbs to make goujons for a tasty starter.
Season the fillets with salt and cut diagonally into strips about the thickness of your little finger. Mix breadcrumbs with grated parmesan and cayenne pepper.
Heat oil for deep frying to 190C and line a baking tray with kitchen paper.
Working in batches, coat the goujons in flour, then beaten egg and the breadcrumb mixture. Drop a handful into the oil and deep fry for about a minute until they are crisp and golden. Lift out with a slotted spoon to the paper-lined tray and serve with lemon wedges.
Want to know how to cook lemon sole fillets in foil? Add butter and cumin to the parcel, bake for eight minutes and serve with fresh coriander and lemon juice.
LEMON SOLE RECIPES
The classic lemon sole recipe is sole meunière, with the fish coated in seasoned flour to lightly protect it without overpowering the flavour. Marcel Proust waxed lyrical about the succulent dish: "From the leathery skin of a lemon we squeezed a few golden drops on two sole, which soon left their bones on our plates, light as a feather and sonorous as a zither."
This fish doesn't taste of lemon and isn't even a sole – it's a member of the plaice family
In Larousse Gastronomique (Hamlyn, 2009), the advice is to skin, clean, wash and trim four sole, lightly flour and season with pepper. Heat six to eight tablespoons of clarified butter and one tablespoon of oil in a frying pan and brown the sole for six minutes on each side. Then drain and arrange on a heated serving dish.
Pour over six tablespoons of butter melted in a saucepan with the juice of a lemon and sprinkle with chopped parsley. Serve with sliced vegetables fried in oil and butter.
According to Larousse Gastronomique, there are more recipes for sole than any other fish – cooked with Asian flavours of coriander, cinnamon and nutmeg; served au gratin; with apples; basil; mushrooms; vermouth or noodles.
There's no shortage of lemon sole fillet recipes, serving the fish with a simple lemon butter and fresh steamed greens or pan fried and served with a lime, chilli and Thai basil sauce.
Lemon sole recipes to look out for:
Lemon sole with parmesan and cream
Pan-fried lemon sole
Baked lemon sole
Pan-seared lemon sole
Lemon and parsley pan-fried sole fillet
Lemon sole in caper butter
Grilled lemon sole with tomatoes, capers and olives
CLICK HERE TO BUY WHOLE LEMON SOLE
CLICK HERE TO BUY LEMON SOLE FILLETS