If your only experience of tuna is gloopy sandwich fillings and stodgy pasta bakes, you'll be in for a treat if you try fresh tuna steaks. Seared on a high heat with the inside still rare, tuna is a healthy alternative to red meat and packed with flavour.
WHAT IS TUNA STEAK?
If fish were cars, tuna would be a Ferrari, according to the World Wildlife Fund. Made for speed, its torpedo-shaped body is streamlined to cut through water and thanks to special swimming muscles it cruises the ocean highways with great efficiency.
The saltwater fish belongs to the Thunnini group, a member of the mackerel family, and there are eight varieties that vary in colour and size.
Found in warm seas, tuna is extensively fished commercially, and as a result of overfishing, stocks of some tuna species, such as the southern bluefin tuna, are close to extinction. Populations of yellowfin tuna are regarded by the Marine Conservation Society to be in comparatively good shape, and that's the species we source at Fresh Fish Daily. It comes from the Indian Ocean, is certified sashimi grade and is histamine analysed.
Yellowfin tuna, Thunnus albacares, can weigh as much as 175kg and is distinguished by its bright yellow fins and finlets. The meat is deep red, has a sweet, mild flavour and a dense, firm texture comparable to beef. A tuna steak is cut perpendicular to the spine.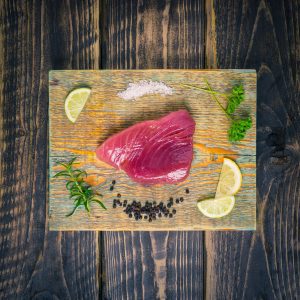 One of the few species of fish that can maintain a body temperature higher than that of the surrounding water, tuna is an active and agile predator and one of the fastest-swimming pelagic fish. Feeding on other fish, squid and crustaceans, a yellowfin tuna can move at speeds of up to 47mph.
Yellowfin tuna spawn throughout the year, peaking in the summer months. A female can spawn almost daily, releasing millions of eggs each time and up to 10 million eggs per season.
Tuna steaks might have become more popular on menus since the later years of the 20th century but the fish has been highly prized since ancient times. The Phoenicians used to salt and smoke it, while in the Middle Ages tuna was pickled then cut up, roasted or fried in olive oil, salted and strongly spiced.
IS TUNA STEAK GOOD FOR YOU?
Low in calories but packed with minerals and nutrients, tuna is a powerhouse of essential nutrients and omega-3 fatty acids – full of good fat and protein.
One of the most important vitamins is niacin, which plays a role in nerve functioning and blood circulation, as well as helping the body create energy, while omega-3 fatty acids boost heart health, potassium lowers blood pressure and a wealth of minerals improve the immune system.
Per 100g raw yellowfin tuna
Energy 130kcal
Fat 0.6g (of which saturated fat 0.2g)
Protein 29g
Rich in vitamin B6, vitamin B12, vitamin D, niacin, phosphorus and selenium
HOW DO YOU COOK TUNA STEAK?
This meaty, flavoursome fish is delicious grilled, baked or pan-seared, especially when it's marinated in herbs and spices. The dense red flesh has a pronounced flavour and it's the raw, sashimi-grade yellowfin that is used in poke bowls and sushi.
A good tip when buying is to choose thicker steaks as they will cook more evenly. Tuna steaks are one of the easiest cuts of fish to cook as they are sold ready to use with the minimum of preparation.
Just like a beef steak, tuna steak can be served from extremely rare to well done
An easy seared recipe is to brush each side with oil and season well – when they're seared on both sides you're done. Alternatively, cooking them in foil in the oven is just as straightforward. Bake, wrapped in oiled tinfoil for about 10 minutes, and the steaks are ready to serve.
It's worth bearing in mind that while beef takes time to cook and can be tough, fish cooks rapidly and is tender. Just like a beef steak, tuna steak can be served from extremely rare to well done. Consider cooking times depending on how you prefer your tuna to be served. The centre of the steak should still be pink – be careful not to overcook it or the fish will be dry. Cooking briefly over a high heat is the key to a perfectly cooked tuna steak.
As a rule of thumb, the cooking time for a rare tuna steak is about 30 seconds per side and for a medium tuna steak one to two minutes per side.
Rick Stein suggests just cooking thick tuna steaks for a minute on each side on a cast-iron griddle in his chargrilled tuna with salsa verde recipe in Fish and Shellfish (BBC Books, 2014): "Chop parsley, mint, capers, anchovy fillets and garlic together by hand on a board. Scoop them into a bowl and stir in the mustard, lemon juice, olive oil and salt.
"Brush the tuna steaks on both sides with oil, seasoning well. Place the cast-iron griddle over a high heat and leave it to get smoking hot, then drizzle it with a little oil. Cook the tuna steaks for one minute on each side until nicely striped from the griddle but still pink and juicy in the centre. Serve at once with salsa verde spooned on top."
The Phoenicians used to smoke and salt tuna, while in the Middle Ages tuna was pickled then cut up, roasted or fried in olive oil, salted and strongly spiced
Tuna is a great fish for marinating. That can be from the simplest mix of lemon juice, olive oil and chilli flakes to flavours with more depth, such as harissa or chipotle paste.  The fairly robust flavour of the tuna can easily handle herbs and spices without being overwhelmed so look out for a spicy recipe that has cumin, cinnamon or paprika.
If you don't have time to cook and eat tuna when it's bought fresh, put the steaks in the freezer on the day of delivery, then defrost overnight in the fridge. Cooking frozen tuna steaks, once defrosted, is no different from fresh and the flavour and texture are exceptionally good.
TUNA STEAK RECIPES
The beauty of tuna steak recipes is their simplicity. With minimum cooking time, you can focus on the accompaniments and follow a simple recipe for an easy supper or an impressive treat for friends and family.
A simple tuna steak recipe serves the fish with a tangy relish, herbed potatoes or a quick parsley salad. Look for tuna steak recipe ideas that use few ingredients but still complement the flavours of this meaty fish. There's no shortage of tuna steak meal ideas, from tuna steak salsa and tuna steak marinaded in soy sauce and honey to tuna confit.
Chargrilled tuna with harissa and potato stew is an easy tuna steak recipe that can be on the table in half an hour. Boil the potatoes, stew the harissa and vegetables for 10 minutes, then cook the tuna steaks. Serve the tuna on top of the vegetable stew.
The fish's torpedo-shaped body is designed to cut through water and thanks to special swimming muscles it cruises the ocean highways with great efficiency
If you'd like a sauce for the tuna steak, think about a lemon caper sauce, a lemon Dijon sauce, a mushroom pepper sauce or a light tuna steak marinade of soy sauce, orange juice and olive oil.
Boiled new potatoes, steamed vegetables, baked sweet potatoes, rice, noodles or a salad with vinaigrette dressing are some of the many options of what to serve with tuna steak.
Looking for more options for tuna steak recipes or what to cook with the fish? Try these recipes:
Soy sauce tuna steak recipe
Tuna steak with noodles
Tuna steak with rice