Search for "cod" online and you're just as likely to get a glimpse into the world of video games as you are to find out about one of the most popular fish in the United Kingdom. If you've pointed your browser here we'll assume it's the latter you're most interested in, so read on for all the information you could possibly require about a perennially in-demand species.
WHAT IS COD?
The cod we eat in the United Kingdom is Atlantic cod (Gadus morhua), which as the name suggests is predominantly caught in the cold waters of the North Atlantic. The Gadus genus spans three further species: Greenland cod (Gadis ogac), Pacific cod (Gadus macrocephalus) and Alaska pollock (Gadus chalcogrammus).
The Gadidae family, which cod belongs to, also includes haddock and whiting, and in some places you might find these being sold as cod.
Cod is a demersal fish, swimming in depths of 6m to 60m. It can grow up to 2m long and weighs 5-12kg on average (though the record is 100kg), with a large head and a powerful body. Cod have three dorsal fins and two tail fins.
In The River Cottage Fish Book (A&C Black, 2007), authors Hugh Fearnley-Whittingstall and Nick Fisher make the observation that cod are neither the most active swimmers in the sea nor the cleverest.
"For a fish that has changed the world," they write, "the cod is a little unremarkable. It's greedy and rather dim, and certainly no athlete. On the contrary, it will seek out the least taxing location in which to exist – along with a few thousand of its brethren. Somewhere out of the strong currents, where it won't have have to put in much effort to hold position and where the food will mostly come to it. Usually it'll dine on shoaling baitfish such as sand eels and sprats … But it'll happily scavenge too, with the widest possible interpretation of what constitutes a meal. All manner of debris, from boots to bottles, has been recovered from the bellies of cod."
CLICK HERE TO BUY COD LOINS
CLICK HERE TO BUY COD FILLETS
CLICK HERE TO BUY COD STEAKS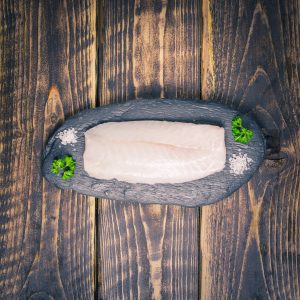 The flesh of cod is bright white, flaky and delicate, with a mild flavour that has helped position it at the top of the charts when it comes to fish and chips in the UK (although its smaller relation haddock pips it to the post in Scotland and northern England).
The female cod is one of the most fertile creatures on the planet, laying up to five million eggs or roe, which is popular in Scandinavian countries, either smoked or boiled and prepared with other ingredients. It is perhaps this fecundity, allied to the cod's apparent fondness for doing as little as possible, that has led to it being easy to catch and consequently a common sight on the iced displays of fishmongers across the United Kingdom.
WHAT'S AVAILABLE?
The most common cuts of cod are loins, fillets, steaks and cheeks.
Cod fillets are vertical cuts from the body, starting at the backbone and working down to the belly.
Cod loins are thick fillets cut from larger fish, and chiefly comprise the main section of fillet above the fish's lateral line, which starts behind the head and ends behind the dorsal fin. Cod loins do not include flesh from the tapering tail and belly, and are widely viewed as superior to the standard fillet.
Cod steaks are bone-in portions cut from the centre of the fish, like a cross-section, and the least expensive cut.
Cod cheeks are skinless and boneless cuts sliced from the head. Popular among chefs, they are are by far the most expensive cut.
IS COD GOOD FOR YOU?
Cod is a highly nutritious fish. In common with all white fish it provides significant amounts of protein, vitamins and minerals while being very low in calories and fat. Eating cod is good for your muscles, brain function, the immune system, your hair and skin, and cardiovascular health.
Per 100g raw cod
Energy 75kcal
Fat 0.6g (of which saturated fat 0.16g)
Protein 17.5g
Rich in vitamin B12, iodine, phosphorus, potassium and selenium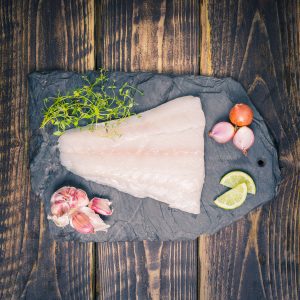 HOW DO YOU COOK COD?
Cod is a versatile fish that lends itself to most methods apart from grilling, which is too fierce for its delicate, flaky flesh. Be careful not to overcook cod as it is more prone than other fish to drying out.
Cod steaks, fillets and loins can be baked in the oven, pan fried, steamed and poached.
The best method for cooking cod depends on personal preference. If you're after a Mediterranean-style dish try baking fillets, loins or steaks with tomatoes and olives or rustle up a cod and chorizo stew. If you hanker for a more traditional meal or simply want something that's easy on the digestive system then you can poach cod and serve it with parsley sauce.
If you've got a deep-fat fryer then try dipping cod fillets or loins in a beer batter and plunging them into the hot oil for a homely version of the classic fish and chips, served with lemon wedges and a liberal dollop of tartare sauce. We'd advise against using cod steaks with this method so you avoid breaking a tooth on a piece of bone.
Cod is a mildly flavoured fish so you can be adventurous with your accompaniment – try roasted peppers, fennel or chorizo
Pan-fried cod is another excellent choice, and popular among chefs. It's a method some prefer to use for cod steaks, the bone adding flavour through the cooking process.
Pat the fish dry and season it lightly. Make sure the pan is good and hot and don't go overboard with the oil, then add the fish skin side down and cook until the skin is golden. Turn the fish over then pop a knob of butter in the pan and baste the fish for a minute or two to stop it drying out (add a dash of lemon juice if you wish), then place the pan in a moderately hot oven for a few minutes.
Cod is a mildly flavoured fish, so you can be adventurous with your accompaniments – try any or all of roasted peppers, fennel and chorizo, for example – but it's equally good with a simple cheese or parsley sauce.
There's also a place for cod, whether trimmings or prepared portions, in fish cakes, croquettes, gratins, mousses and fish pie.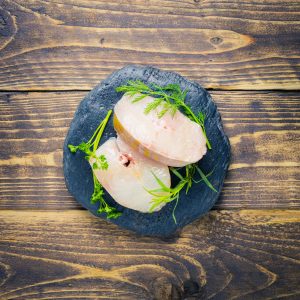 COD RECIPES
Due to its popularity, there is a world of recipes for cod created by both amateur and professional chefs. Some are healthier than others but bear in mind the intrinsic benefits of cod: a so-called unhealthy cod recipe is still considerably healthier than a plate of sugary BBQ ribs, for example. It could even be argued that any cod recipe is healthy by definition, though deep-frying is probably best kept to a minimum if you're concerned about your fat intake.
Search for the following recipes online and you can't go far wrong:
Cod in parsley sauce
Cod and chorizo stew
Beer battered cod and chips
Cod fishcakes
COD VS HADDOCK
This is a common question. Apologies for sitting on the fence (what would you expect?) but the plain truth is neither is better than the other – it's all down to personal taste.
In terms of taste and texture haddock is slightly finer and sweeter than its bigger cousin cod and is better suited to smoking. But who doesn't love tucking into a battered piece of cod straight from the fryer of a great fish and chip shop?
And lest we forget that without cod generations of children might not have had the joy of discovering fish fingers, which were created by Birds Eye in 1955 and turned a nation used to fiddling with tinned sprats, pilchards and sardines on to the joy of fresh chunks of white fish coated in breadcrumbs.
Cod vs haddock? It's a score draw.   
CLICK HERE TO BUY COD LOINS
CLICK HERE TO BUY COD FILLETS
CLICK HERE TO BUY COD STEAKS