Seafood aficionados will say lobster is a luxurious delicacy worth shelling out for. It's undoubtedly classy and delicious but often confusing to those who aren't au fait with the etiquette of how to cook and eat this crustacean. Lobster is still viewed as the ultimate in fine dining, and these days you can easily recreate the experience at home.
WHAT IS LOBSTER?
The common lobster or European lobster (Homarus gammarus) is a species of clawed lobster found all around the British Isles and Europe and a member of the same family as crab and crayfish.
Common lobster hide away in cracks and crevices in rocks 10-15m deep during the day, as smaller lobsters are prey for large fish such as cod, bass and rays. They come out at night to feed, scouring the seabed for marine worms, starfish, other crustaceans and dead fish.
Lobsters become fertile at around five years old, with breeding taking place at any time of the year. The female carries fertilised eggs on her underside for up to a year before they hatch. The larvae are free-swimming for the first stage of their life before taking the same form as the adults and moving to the seabed. Although females carry around 100,000 eggs, only a tiny proportion reach the adult stage.
Growing more than 60cm in length, the common lobster has a segmented body with eight legs, long antenna and prominent eyes. The two claws of the lobster are large and powerful, capable of causing significant damage to humans. The claws are not symmetrical but differ slightly as one is a crushing claw to hold prey and the other a cutting claw.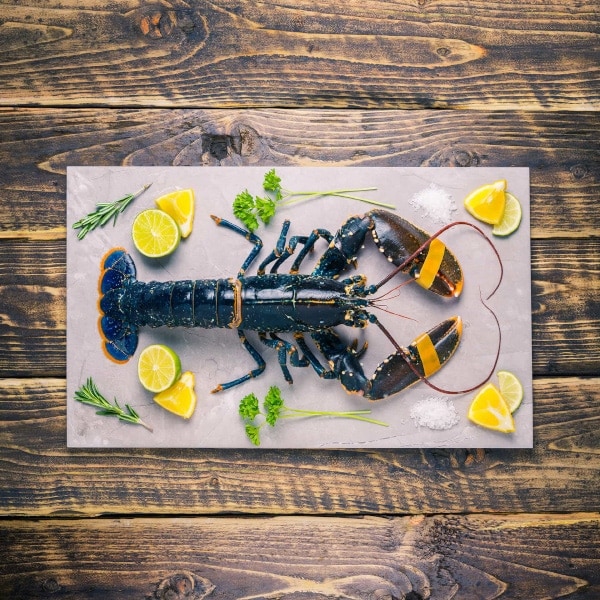 The common lobster is blue with a paler underside, sometimes black and speckled with lighter colours. What does it taste like? Lobster has a strong, sweet taste with luxurious meat in the first pair of claws, abdomen and tail.
Native lobsters are caught off the coast of the UK, usually from June to September. Our lobsters are caught in creels in the north-east Atlantic.
Synonymous with fine dining, this is a highly valued commercial catch. Despite heavy fishing, the IUCN (International Union for the Conservation of Nature) currently classes the common lobster as a species of Least Concern with a stable population trend.
There are a number of voluntary measures in place to maintain lobster numbers, including minimum size limits, rules to always return berried (egg carrying) lobsters and a system where notches are cut into the tail of female lobsters at peak breeding age and agreeing not to keep these lobsters until the notches have grown out. The IUCN status of this species suggests that these measures are effective at maintaining lobster numbers.
The classic dish is lobster thermidor – creamy and cheesy with hot mustard overtones
In The River Cottage Fish Book (A&C Black, 2007) Hugh Fearnley-Whittingstall and Nick Fisher say: "Catching lobster is, relative to other forms of fishing, unusually ecologically friendly. Lobster pots do little damage to the seabed, as they are lifted and dropped, and they target lobsters and crabs quite specifically, so that any bycatch can be released unharmed. More importantly, the target stock itself can be responsibly managed: mature females can be returned alive, along with undersized specimens of both sexes."
The European lobster found in the cold waters of England, Scotland and Ireland (often referred to as a native lobster) is considered the best quality.
IS LOBSTER GOOD FOR YOU?
Like other shellfish, lobster provide protein, vitamins and minerals, the meat is low in fat and a great source of the omega-3 fatty acids, which help protect against thyroid disease, depression and anaemia. Lobsters are also a great source of selenium.
Per 100g boiled lobster
Energy 103kcal
Fat 1.6g (of which saturated fat 0.2g)
Protein 22.1g
Rich in vitamin B12, vitamin E, copper, iodine, phosphorus and selenium
HOW DO YOU COOK LOBSTER?
Our creel-caught lobsters are sold live and should be cooked fresh as soon after delivery as possible.
How to cook lobster is the first question asked by anyone who hasn't prepared the crustacean at home before. Our advice is to stun the lobster by putting it in a bag in the freezer (at least -10C) for two hours, then plunging it into a pan of boiling water. Under no circumstances should the lobster be added to boiling water before stunning first in the freezer for the correct amount of time.
To extract the meat from a cooked lobster, if you want to know how to prepare it to add to a dish, lay the cooked lobster on a board and twist off the claws. Break them into sections using lobster crackers or a good, solid nutcracker, then pull out the meat. The skill here is in keeping the tail meat in one piece.
Then twist off the legs, flatten them with the back of a knife and tease out the flesh using a pick or the end of a teaspoon.
For the body, split the lobster in half along its length and separate the two halves. Remove and discard the stomach sac, gills and intestinal thread. You may want to keep the liver (tomalley) – it's considered a delicacy by some. Any coral-coloured roe can be put aside to use in a concentrated lobster butter. The empty shells can be used to make stock, to use as a base for bisque or bouillabaisse.
Keep it simple and serve lobster either hot with melted butter or cold with lemon mayonnaise
What to serve with lobster? For some, the sweet, mild taste of lobster flesh really doesn't need any enhancement. The best advice is to keep it simple and serve lobster either hot with melted butter or cold with lemon mayonnaise. On the side serve a tossed green salad, chips, boiled or baked potatoes along with grilled corn on the cob.
Remember, cooking times should be minimal to keep the meat soft and delicate.
The subtle taste of pasta and risotto complements lobster well. Think about ravioli or tortellini stuffed with lobster, or a very sophisticated mac and cheese.
The classic dish is lobster thermidor – creamy and cheesy with hot mustard overtones, you can serve it with raw fennel, green beans or sugar snap peas dressed in garlic.
In Fish and Shellfish (BBC Books, 2014), Rick Stein has a number of lobster recipes, including one for cod and lobster chowder: "Remove the meat from the cooked lobster. Crush two water biscuits to very fine crumbs with a rolling pin. Then mix with the tomalley (liver), other soft material from the lobster head and butter; or blend everything to a paste in a small food processor.
"Heat butter in a medium-sized pan, add salt pork or rindless streaky bacon and fry over a medium heat until lightly golden. Add onion and cook gently until softened. Stir in flour and cook for one minute.
"Gradually stir in milk, then potatoes and a bay leaf, and simmer for 10 minutes. Add the cod and simmer for four-five minutes. Lift the fish out of the milk, break the flesh into large flakes with a wooden spoon and return to the soup. Stir in the water biscuit paste, lobster meat and cream and simmer for one minute. Season with cayenne pepper, salt and black pepper.
"To serve, coarsely crush two water biscuits and sprinkle them over the soup with chopped parsley."
It's OK to get your hands messy – just put your napkin on and get stuck in
Meanwhile, in F Marian McNeill's The Scots Kitchen (1929), she offers a recipe for lobster haut gout: "Pick the firm meat from a parboiled lobster or two and take also the inside, if not thin and watery. Season highly with white pepper, cayenne, pounded mace, cloves, nutmeg and salt. Take a little well-flavoured gravy – for example, the jelly of roast veal – a few tiny bits of butter, a spoonful of soy or walnut catsup, or of any favourite flavoured vinegar, and a spoonful of red wine. Stew the cut lobster in this sauce for a few minutes."
A good tail recipe will serve the meat with lemon, butter, garlic, parsley, Dijon mustard and a pinch of chilli powder.
How to eat cooked lobster is a common question. Ideally you want to have a pair of pliers – called a cracker – to break into the lobster, and a spiked pick called a lobster fork to get all the meat from inside the knuckle. It's OK to get your hands messy, just put your napkin on and get stuck in.
LOBSTER RECIPES
As we already mentioned, lobster thermidor recipe is a classic – sweet lobster meat and creamy, buttery sauces served with a herby butter made with shallot, tarragon, parsley and spices.
You might prefer a more modern take and try grilled lobster tails with lemon and herb butter.
Alternatively, look for a bisque or chowder recipe or serve the lobster cold with homemade mayonnaise, béarnaise or hollandaise sauce for dipping.
If you really want to push the boat out, go for barbecued surf and turf, pairing lobster with a T-bone steak.
Other recipes to look out for:
Lobster thermidor
Lobster ravioli
Lobster with linguine
Lobster roll