Affordable, sustainable and super-fresh, rainbow trout is also handily plate-sized. If that's not enough, its versatility will win you over. No wonder this all-rounder makes its way on to so many menus.
WHAT IS RAINBOW TROUT?
A real beauty of a fish, with a silvery body and purple, pink and blue streaks down its sides, the rainbow trout lives up to its name.
Rainbow trout (Oncorhynchus mykiss) isn't actually native to the UK, originating from the northern Pacific, but the fish has been introduced to many countries, including ours, and is widely farmed. Such is its popularity, the only continent rainbow trout hasn't been introduced to is Antarctica.
Trout is a species of salmonid, which explains its similarities in appearance and taste to salmon. A predatory fish, it feeds on insect larvae, small fish and flying insects, such as mayflies and damselflies. Its name actually comes from the Greek "troktes", meaning voracious.
These gloriously coloured fish are extremely common across Britain due to their ability to adapt to still water. In fact, rainbow trout can also migrate to sea, returning to spawn in freshwater.
CLICK HERE TO BUY RAINBOW TROUT FILLETS
CLICK HERE TO BUY RAINBOW TROUT FILLETS IN A HONEY AND CHILLI MARINADE
CLICK HERE TO BUY RAINBOW TROUT FILLETS IN A LEMON AND CORIANDER MARINADE
CLICK HERE TO BUY RAINBOW TROUT FILLETS IN AN ORANGE AND DILL MARINADE
CLICK HERE TO BUY WHOLE RAINBOW TROUT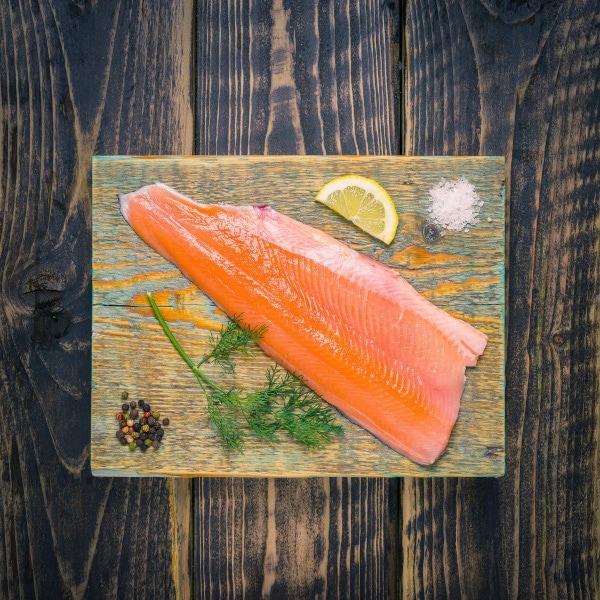 The average size of a rainbow trout is between 500g and 2kg, though they can grow up to 14kg. They reach up to 70cm in length and their average lifespan is four to six years.
The fish prepare to breed between January and April. The males darken in colour and develop a hook on the lower jaw and a vivid orange mark on the gills, extending down the flanks. Rainbow trout struggle to breed naturally in Britain because our water is too cold, so most are artificially bred. That's why it's always good to know where your rainbow trout came from and that it has been farmed responsibly. Ours are supplied by Belhaven Trout Company of East Lothian.
Rainbow trout are readily available, making the fish a sustainable year-round buy.
With a mild, delicate, nut-like flavour, the flesh of rainbow trout is tender, flaky and soft and coloured either white, pink or orange. Once the meat is cooked, it has a delicate flake and the colour pales.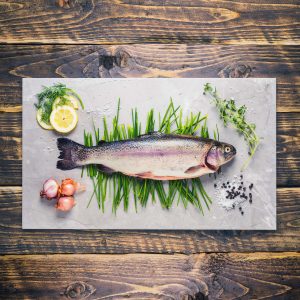 WHAT'S AVAILABLE?
Look out for rainbow trout fillet and whole rainbow trout.
Fillets are cut from the head to the tail, away from the ribs, while whole rainbow trout are prized by many chefs as cooking on the bone helps the keep the flesh moist and locks in flavour.
IS RAINBOW TROUT GOOD FOR YOU?
Rainbow trout is a healthy option if you're looking to follow a well-balanced diet. The facts speak for themselves – packed with omega-3 fatty acids to protect against brain and cardiovascular diseases such as Alzheimer's, and the risk of heart attacks or strokes, the fish is also bursting with vitamins B3, 6 and 12 to encourage healthy bones, muscle development and boost energy levels. Rainbow trout is a good-quality lean protein that also includes iron and selenium, helping to strengthen the immune system. If you like the taste of rainbow trout, enjoy as much as you like of that delicate, nut-like flavour.
Per 100g raw rainbow trout
Energy 127kcal
Fat 5.3g (of which saturated fat 1.12g)
Protein 19.9g
Rich in vitamin B12, vitamin D, niacin, phosphorus, iron and selenium
HOW DO YOU COOK RAINBOW TROUT?
With its slightly nutty, sweet flavour and tender flesh, rainbow trout is a real treat and couldn't be simpler to cook. For the best recipe, look out for bigger fish for the tastiest flesh.
You can bake, grill or pan fry rainbow trout to make the most of those delicate flavours.
A predatory fish, rainbow trout feeds on insect larvae, small fish and flying insects such as mayflies and damselflies
As Hugh Fearnley-Whittingstall and Nick Fisher offer in The River Cottage Fish Book (A&C Black, 2007): "Plate-sized rainbows are easy to cook by any of the obvious methods: baked in foil with butter, a splash of wine and a few herbs; fried to get the skin crispy; or barbecued. Bigger rainbows smoke and cure beautifully too."
The best way to cook whole rainbow trout is to sprinkle it with olive oil and wrap it in foil with garlic, lemon juice and herbs, then bake it in the oven. It's also easy to barbecue or grill a whole fish.
When cooking rainbow trout, cut the thickest part of the fish a couple of times on each side. This will help the heat to penetrate the flesh for more uniform cooking.
When it comes to cooking rainbow trout fillets, choose between pan-frying, poaching, steaming, grilling or cooking en papillote. Steaming is often suggested as the best way to cook rainbow trout fillets as it brings out the full flavour of the fish while retaining the moisture. For this method, you might like to serve the fish with Asian-style vegetables and spices.
To make sure the fish is cooked to perfection, push a knife into the thickest part of the flesh. If the fish is cooked through, the knife will come out hot to the touch and the flesh will turn opaque and have a slight resistance when prodded.
Another method for cooking rainbow trout is to make ceviche. You'll find the oily flesh and wonderfully subtle flavours of the fish work particularly well with acidic marinades. Just make sure the fish is very fresh.
You might want to think about pairing rainbow trout with strong, salty meats such as bacon and chorizo
Now you know how to cook rainbow trout fillets and whole fish, what should you serve with them? Lemons, limes and tomatoes are a great match as the acidity cuts through the oiliness of the fish. Other options to try are horseradish sauce and capers or Japanese flavours including shiso, sesame and wasabi. When it comes to herbs, think about dill and parsley, while samphire, new potatoes and asparagus are delicious vegetable side accompaniments.
You might also want to think about pairing rainbow trout with strong, salty meats such as bacon and chorizo. And consider emphasising the nutty taste of the fish with almonds – think trout amandine or trout meunière amandine.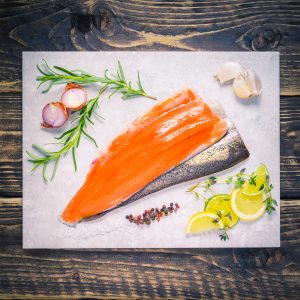 RAINBOW TROUT RECIPES
Keep recipes simple to make an easy but impressive supper. It only takes a few minutes to cook the fish, giving you plenty of time to think about what to serve with rainbow trout, from horseradish or any sauce with a kick, to new potatoes and watercress.
There are plenty of rainbow trout recipes to choose from. In Delia Smith's Complete Cookery Course (BBC Books, 1989), she suggests: "Put some parsley, lemon slices, a bay leaf, peppercorns, onion rings and a few herbs in poaching water, along with a glass of white wine. When cooked, drain the fish and serve with parsley butter.
"Alternatively they can be fried, dipped first in flour, and with a few capers and lemon juice or white wine added to the pan at the end."
Meanwhile Larousse Gastronomique (Hamlyn, 2009) offers a classic pan-fried recipe for trout with almonds.
"Clean and dry four 250g trout. Season with salt and pepper and dust with flour. Melt 50g butter in a large oval frying pan and brown the trout on both sides, then lower the heat and cook for 10-12 minutes, turning once.
"Brown 75g flaked almonds in a dry frying pan or in the oven and add to the trout. Drain the cooked trout and arrange on a serving dish. Sprinkle with 2 tablespoons lemon juice and some chopped parsley. Keep warm. Add 20g butter and 1 tablespoon vinegar to the frying pan, heat, then pour over the trout with the almonds."
Also look out for any baked fillet recipe, steamed in foil, if you want to learn how to cook fillets in the oven.
Rainbow trout fillet recipes to look out for include:
Roast rainbow trout with new potatoes and herb butter
Rainbow trout with horseradish yoghurt and balsamic beets
Soy baked rainbow trout
Roasted rainbow trout
While whole recipes for rainbow trout worth trying are:
Rainbow trout baked in foil
Rainbow trout with leeks
Lemon baked rainbow trout with pine nuts
HOW DO YOU FILLET A RAINBOW TROUT?
Here at Fresh Fish Daily we sell whole rainbow trout and rainbow trout fillets. If you'd like to learn how to fillet a rainbow trout and expand your skills in the kitchen, it's easy to learn.
First, make sure your knife is sharp, then start by making a big cut behind the gill and then turn in around 90 degrees. You'll feel the spine or the backbones under your blade and can continue to cut along those bones until you're an inch or so from the tail.
Pick up the filleted flesh and pull it up and over, laying the skin side down flat on the work surface. Now make a little cut by the tail and then slide the knife along the skin towards the end of the fillet, separating the skin from the meat. This leaves you a boneless, skinless piece of trout. Just flip the trout over and repeat the process on the other side.
CLICK HERE TO BUY RAINBOW TROUT FILLETS
CLICK HERE TO BUY RAINBOW TROUT FILLETS IN A HONEY AND CHILLI MARINADE
CLICK HERE TO BUY RAINBOW TROUT FILLETS IN A LEMON AND CORIANDER MARINADE
CLICK HERE TO BUY RAINBOW TROUT FILLETS IN AN ORANGE AND DILL MARINADE
CLICK HERE TO BUY WHOLE RAINBOW TROUT