Often under-rated, sea bream is a more recent addition to restaurant menus and our dinner tables at home. If you're new to sea bream then there's much to look forward to – the juicy white flesh is a delight and it takes just a few minutes and a handful of simple ingredients to rustle up a mouthwatering dish.
WHAT IS SEA BREAM?
Sea bream are a group of compact, medium-sized fish known as Sparidae.
The bulk of the sea bream sold in the UK comes from Mediterranean farmed gilthead bream (Sparus aurata). Here at Fresh Fish Daily, our sea bream are farmed in the eastern Mediterranean.
Gilthead bream are named after the little gold bar on their forehead. With a metallic sheen and chunky profile, the gilthead bream is a beauty of a fish.
Sea bream start life as males and change sex at about three years of age
The ancient Greeks and Romans liked sea bream cooked with seasoned sauces and accompanied by fruits.
Gilthead bream are predatory coastal fish found in estuaries and bays, growing to lengths of 70cm, and can live for as long as 11 years. They are most often found in coastal areas but have been caught at depths of up to 150m. Spawning occurs between November and December. Solitary fish, they eat worms and crustaceans as well as smaller fish and have impressive teeth when you see them up close.
Interestingly, these fish start life as males and change sex at about three years of age.
With dense, juicy white flesh, sea bream are usually sold whole or in fillets. With a satisfying meaty texture, a clean taste and a delicate flavour they're a good choice whether you're cooking fillets or opt to try a whole fish. Cooked on a barbecue, grilled or baked in salt, the list of possibilities is endless with a fish as good as this.
CLICK HERE TO BUY WHOLE SEA BREAM
CLICK HERE TO BUY SEA BREAM FILLETS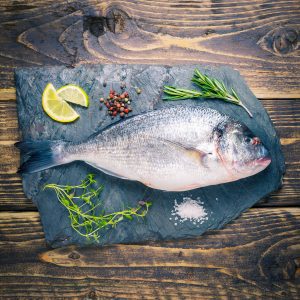 WHAT'S AVAILABLE?
Sea bream fillets are portions taken from behind the head to the tail.
Whole sea bream include the bone for extra flavour.
IS SEA BREAM GOOD FOR YOU?
Sea bream is a healthy option, being low in calories and rich in B vitamins. A medium-sized portion will give you the recommended daily amount of vitamins and minerals to enhance the immune system and protect against heart disease and cancer.
Per 100g raw sea bream
Energy 172kcal
Fat 11.1g (of which saturated fat 2.5g)
Protein 16g
Rich in vitamin B6, vitamin B12, niacin and phosphorus
HOW DO YOU COOK SEA BREAM?
Either whole or filleted, sea bream can be baked, pan fried, grilled, steamed or roasted.
A good rule of thumb – as with all fish – is not to overcook sea bream. In fact, it's always better to undercook sea bream than let it spend too long in the pan or the oven. Cook at a higher heat, up to 250C, otherwise it's likely to poach in its own juices.
If you want to know how to cook sea bream fillets, think about pan frying or grilling, with herbs and spices to complement the fish. Cooking sea bream fillets only takes a few minutes on each side and they're ready to eat.
The versatility of this often underrated fish means there are endless options of how to serve it. Some might say the best way to cook whole sea bream is wrapped in tinfoil and baked in the oven, while the best way to cook sea bream fillets is fried quickly in the pan.
Stuff the fish with lemon and herbs for a simple, no-fuss approach to cooking whole sea bream or try making salt-baked fish if you're looking for the best way to cook whole sea bream.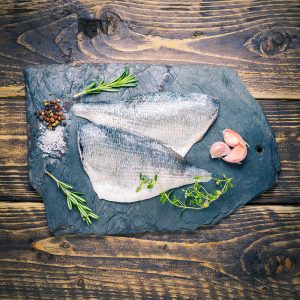 Sea bream is at its best served with lighter, subtler flavours, and with any Mediterranean or Asian flavours. It makes a sound choice for lunch or a light supper.
Herbs and vegetables are also a good match for the sweet, moist flesh. Think about a light creamy sauce, such as lemon butter sauce, for the perfect accompaniment for a whole fish.
To make the most of the flavour of this low-calorie fish, try steaming whole sea bream or fillets with ginger and citrus then serve it with rice.
In The River Cottage Fish Book (A&C Black, 2007), authors Hugh Fearnley-Whittingstall and Nick Fisher wax lyrical about the versatility of the fish: "All in all, the bream is pretty much an exemplar of all you could possibly want from an eating fish: firm and dense, fully flavoured, holding its moisture without getting soft or wet, and offering just a hint of meaty oiliness to make it rich and moreish.
"You can do just about anything with it, including making sushi and sashimi or baking a whole large one in a saltdough crust. But doing very little often produces the best results of all, and fried, baked or barbecued whole bream, with just a few herbs and a little garlic for some contact flavouring, is very hard to beat."
We sell whole sea bream as well as fillets, but if you'd to find out how to fillet sea bream yourself at home, it's a good skill to learn.
Use kitchen scissors to cut off the fins, then use a fish scaler or the back of a knife to descale the fish. Remove the head with a sharp knife and discard, then divide the fish into fillets by slicing along the backbone from head to tail and removing the fillet. Turn the fish over and do the same on the other side, separating the flesh from the bone. Use tweezers to remove any pin bones from the fillets and slide the knife between the skin and the flesh.
Sea bream is at its best served with lighter, subtler flavours, and with any Mediterranean or Asian flavours
To the uninitiated, there is sometimes confusion over whether to choose sea bream or sea bass in recipes. The two fish are quite different – sea bream has meaty white flakes while sea bass is much more delicate in texture. Though, it's fair to say, when it comes down to sea bream vs sea bass, both are packed with flavour.
Think about how you want to eat the fish and what you'd like to serve it with, then the decision is pretty much made for you. If you like sea bass it's guaranteed you will also be a fan of sea bream.
SEA BREAM RECIPES
Sea bream is a popular fish around the world, seamlessly matching a spectrum of flavours. From whole-baked sea bream with lemon and bay leaves and baked sea bream with rosemary and garlic to baked sea bream with chillies, garlic and thyme, there's something for everyone.
Healthy sea bream recipes to try include olives and tomatoes for a Mediterranean theme. Use olive oil for pan frying if you're following sea bream fillet recipes, or bake Greek style with lemon and garlic or with garlic and chilli if you'd like to try whole sea bream recipes.
Alternatively, think of the light, delicate flavours of Asian cooking to balance the fish.
In Fish and Shellfish (BBC Books, 2014), Rick Stein has a recipe for chargrilled butterflied sea bream that he picked up in Indonesia.
Using whole sea bream, he opens them up and presses firmly along the backbone to make the fish completely flat.
"For the marinade, put shallots, garlic, chilli, ginger, galangal, turmeric, tamarind water and salt into a mini food processor and blend to a smooth paste.
"Tip into a small bowl and stir in two tablespoons of vegetable oil. Paint some of the marinade over both sides of each fish and leave for at least 10 minutes. Stir another two tablespoons of oil into the remaining marinade. Preheat the grill to hot.
"If you have one, place the fish in a lightly oiled wire fish grill: this makes turning easier. Otherwise, simply place the fish on the oiled bars of a barbecue or the rack of the grill pan, skin side up. Cook for four minutes on each side, basting regularly with the leftover marinade, until slightly charred and cooked through. Serve straight away with sambal matah."
Popular sea bream recipes to look out for:
Tandoori spiced sea bream
Baked sea bream with tomatoes and coriander
Baked sea bream with garlic and chilli
Whole sea bream with chilli and lemongrass
Steamed sea bream with soy, ginger and spring onions
Whole sea bream en papillote
Fillets of sea bream with vegetable julienne
Sea bream stuffed with fennel
CLICK HERE TO BUY WHOLE SEA BREAM
CLICK HERE TO BUY SEA BREAM FILLETS