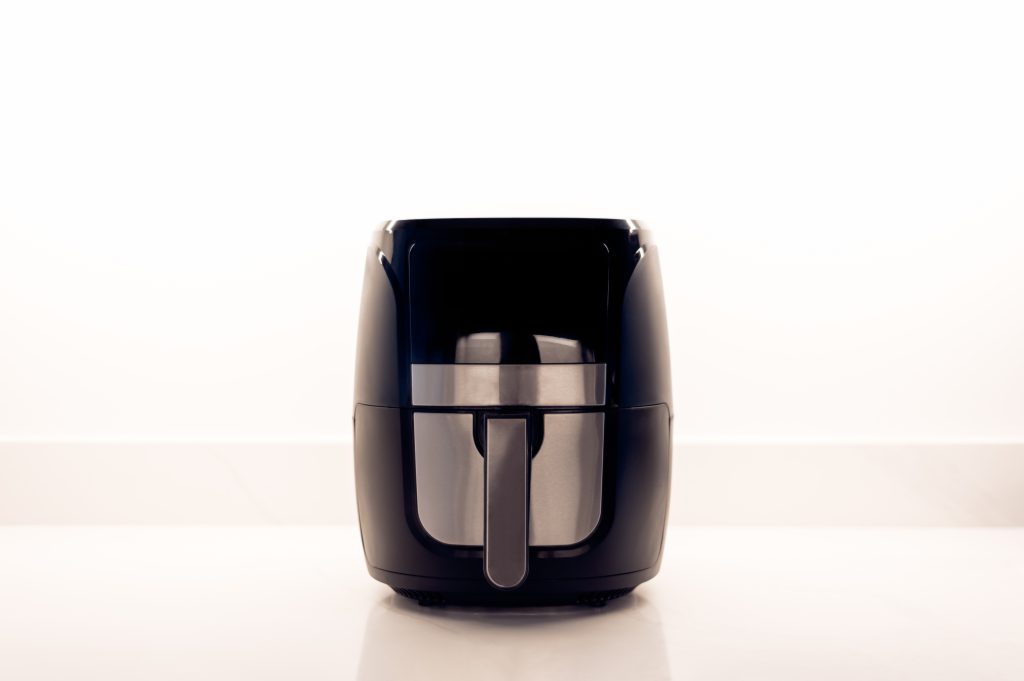 Ten years ago most of us had never heard of air fryers. Now, a reported three in 10 UK households have one. The likes of Gordon Ramsay and Oprah Winfrey sing the praises of their air fryers and Waitrose and Aldi are introducing air fryer cooking instructions to food packaging. While the surge in their popularity has arguably peaked, there's no doubt the appliances have reached a wide audience.
Most devotees use their air fryers for simple, child-friendly foods such as sausages, chips and chicken portions, making midweek meals a straightforward affair. You put your food in the appliance, close the drawer, set the heat level and cooking time then walk away, returning only to plate up your meal. So far, so easy.
But what are the rules when it comes to cooking fish and seafood in an air fryer? And, if you're one of the many millions who haven't yet purchased an air fryer, what exactly are they and how do they work?
WHAT IS AN AIR FRYER?
There are different kinds of air fryers but all use the same basic technology, which is similar to a convection oven. An air fryer is a small oven with a heating element – either on the top of the machine or in the base – and a fan that blasts the heat around the contents of the air fryer. 
Usually (but not always) you add a small amount of oil to the air fryer to help cook the food you're putting in it and keep it moist, hence the name.
Air fryers are not limited to cooking savoury foods and can be used to bake cakes too.
The Dutch firm Philips brought out the first compact air fryer in 2010 but it was Oprah Winfrey who sparked their boom in popularity after she named it as one of her favourite kitchen appliances in 2016.
ARE AIR FRYERS EXPENSIVE?
In common with all consumer goods, the capabilities of air fryers increase in parallel with the price.
At the budget end of the spectrum you'll find simple machine such as the Salter EK4221 (around £50), which features one 4.5-litre basket for your food, a digital timer and seven functions.
If your pockets are deep and you're unfazed by new technology then £200 will get you a Ninja Foodi AF400UK, which sports two 4.75-litre baskets (meaning you can cook two kinds of food simultaneously) and six functions (Air Fry, Max Crisp, Roast, Bake, Reheat and Dehydrate).
Besides price, key considerations when choosing an air fryer include the number of mouths you're planning to feed, the amount of food you're aiming to cook and the amount of storage space in your kitchen. They can also be heavy – the Ninja Foodi AF400UK weighs almost 9kg – which could be a factor if you have to stash it away every time you use it.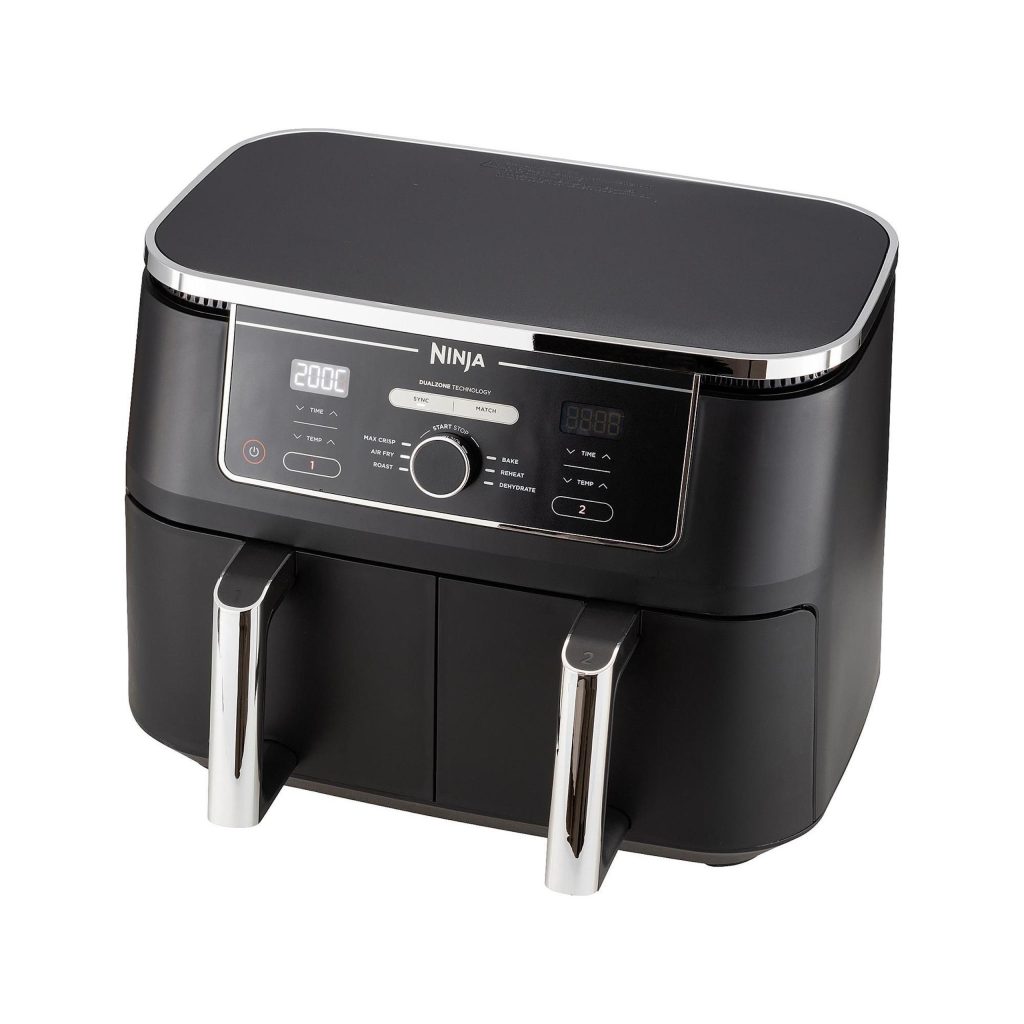 CAN AN AIR FRYER SAVE ME MONEY?
There has been much discussion about whether using an air fryer can save you money, which is clearly an attractive prospect for householders given the cost of living. All manufacturers make claims about how much you can save by switching to an air fryer, and the appliances do consume less power than conventional ovens. So it's easy to conclude that using an air fryer will help lower your bills. Alas, it's not as simple as that.
Needless to say how much money (if any) an air fryer will save you depends on multiple factors, including how often you're planning to use it, what you're cooking, the efficiency of your conventional oven (if you have one) and the cost of your air fryer.
If you buy a top-end air fryer and use it infrequently to make chips for two people, for example, then it will take a long time to recoup your outlay. You would be better off purchasing a cheaper air fryer.
On the other hand, if you use an air fryer to feed a family of four several times a week then a smaller appliance won't be suitable, so you will need a machine with a larger capacity. Two-drawer appliances can be found for significantly less than the cost of an Ninja Food AF400UK.
Another factor is what you're cooking in the air fryer. Chips and vegetables don't take long to cook, but a chicken, for example, will take a considerable amount of time to cook due to the lower wattage of the air fryer. If you have a good oven then there might be little difference in cost between cooking a chicken in it versus cooking the chicken in your air fryer, since the more powerful conventional oven will cook the chicken more quickly.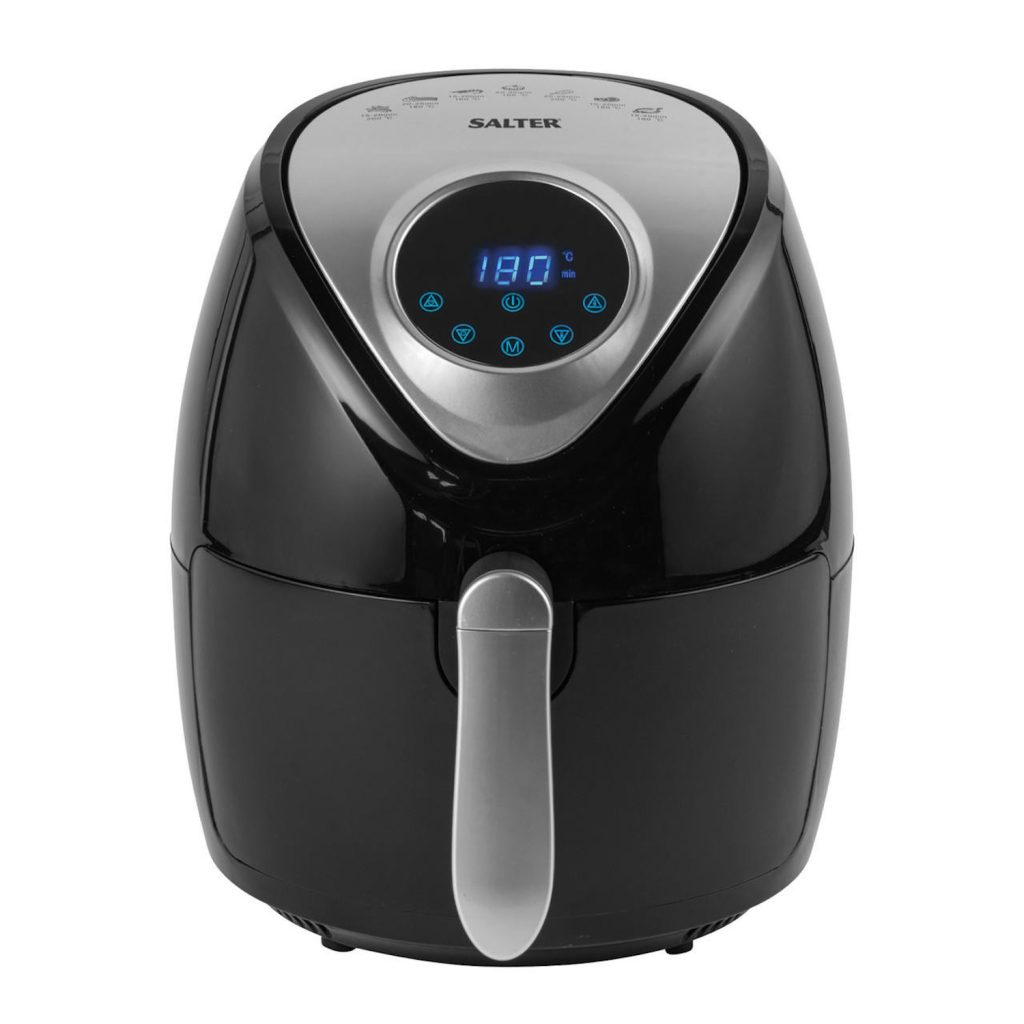 IS AN AIR FRYER HEALTHIER THAN CONVENTIONAL COOKING METHODS?
If you're planning to cook food you'd normally cook in a deep-fat fryer or shallow fry in a pan then the answer is yes, since air fryers use much less oil. Consequently you will consume less fat. 
If you end up cooking chips five times a week the health benefits of using an air fryer will quickly disappear!
But if you end up cooking chips five times a week because it's convenient then the health benefits of using an air fryer will quickly disappear!
CAN YOU COOK FISH IN AN AIR FRYER?
Yes. 
Fillets of equal size are the best option, since this will yield the most consistent cooking, but you can also cook fish wrapped in tinfoil.  
You can also cook fish cakes and fish fingers in an air fryer – especially important if you have young children.
HOW DO YOU COOK FISH IN AN AIR FRYER?
If you're cooking fillets which are frozen then defrost them overnight in the fridge, placing them on a wire tray over a colander.
Either brush the drawer of the air fryer with a little oil or use a cooking spray to lubricate the drawer.
Preheat the air fryer to 180-200C.
Place the fillets in a single layer, as evenly spaced as possible to allow the hot air to circulate and cook the fish consistently, and close the drawer.
The cooking time will depend on many things including the variety of fish, the thickness of the fillets and whether you've marinated or glazed the fillets. The best idea is to check the fish as it cooks, the same way you would if you were cooking them in the oven, a pan or under the grill. 
Halfway through, turn the fillets over to ensure they're cooked evenly.
The chances are it will take a few attempts to nail your technique, but persevere and in no time you'll be adept at cooking fish in an air fryer.
If you're cooking fish wrapped in tinfoil, to ensure succulence and flavour simply add seasoning, herbs and citrus and cook them as you would under the grill.
An air fryer is simply another way to cook fish and seafood
CAN YOU COOK WHOLE FISH IN AN AIR FRYER?
Yes. Again, it will take a few attempts to hone your technique but, as long as the drawer of the air fryer is large enough to accommodate the number of whole fish with space between the fish, there's no reason whatsoever why you can't cook whole fish in an air fryer. As with fillets, make sure to flip the fish over halfway through cooking.
ARE THERE ANY KINDS OF FISH YOU CAN'T COOK IN AN AIR FRYER?
Battered fish fillets will simply stick to the drawer of the air fryer, so they're a no-no. You can, however, cook breaded fillets in an air fryer – simply shake off as much excess as possible. If you're in any doubt about the moisture level, hold the fillet under cold running water and start the breading process again. 
You can cook all types of fish in an air fryer – salmon, haddock, cod, sea bass, sea bream, monkfish, lemon sole, halibut, rainbow trout and many more. Remember to tread carefully and adjust the heat and cooking time according to the consistency of the fish's flesh and the thickness of the portions.
CAN YOU COOK FROZEN FISH IN AN AIR FRYER?
If you believed some of the posts on YouTube, the answer would be yes. In reality, however, it's a colossal faff and a waste of time – to prevent overcooking or burning you will have to constantly check the fish, which if left alone will dry out and become inedible. 
There's one exception, however – see below.
One of the fundamental philosophies of Fresh Fish Daily is that the fish you eat should be as fresh as possible. If you wish to cook fish supplied by us in an air fryer then we recommend defrosting it as described above before cooking it.
The air fryer industry worldwide is worth more than £750m – and growing
CAN YOU COOK FROZEN FISH FINGERS IN AN AIR FRYER?
Frozen fish fingers are smaller than fish portions and made of minced fish – usually cod or haddock. This means their texture is almost 100% consistent and the heat generated by the air fryer will penetrate them evenly. So yes, you can cook frozen fish fingers in an air fryer.
HOW DO YOU COOK FROZEN FISH FINGERS IN AN AIR FRYER?
Add a little cooking spray to the drawer to prevent the fish fingers sticking to the surface. Place the fish fingers in a single layer and cook at 200C for 5 minutes, then turn the fish fingers over and cook for a further 5 minutes.
In this example, using an air fryer is clearly more economical than using the oven.
CAN YOU COOK FISH AND CHIPS IN AN AIR FRYER?
Provided your appliance has two drawers, you can cook fish and chips in an air fryer. The fish must only be breaded, not battered (see above).
CAN YOU COOK PRAWNS IN AN AIR FRYER?
Yes. They will take 5-8 minutes at 200-200C.
WHERE CAN I FIND FISH AIR FRYER RECIPES?
Most air fryer manufacturers bundle recipe books with their products and direct you to their preferred apps so you can look up recipes on your phone or tablet as you prepare your meal.
Reflecting the popularity of air fryers worldwide (the industry is worth more than £750m and growing), there are thousands of recipes on the internet. We recommend trusted sources such as the BBC Good Food website.
IN CONCLUSION …
The key lesson we wish you to learn from this article is that an air fryer is simply another way to cook fish and seafood. The same principles apply to air-fried fish and seafood as sautéed, baked, poached or grilled fish and seafood. 
Just as you would when using conventional cooking methods, be mindful and respectful of the fish you're cooking – its fat content, whether it's flaky like cod or meaty like monkfish, whether it's a thick fillet of halibut or a thin fillet of lemon sole. Seasoning and marinades that work with the fish using longstanding methods will work when using an air fryer. The goal – a delicious, life-affirming plate of food – remains the same.