It might be the No1 choice of fish and chip shops across many parts of Britain but there's so much more to haddock than deep fried and covered in batter. From soft, succulent fillets to smoky cuts that give a wonderful depth to dishes, find out all about one of the nation's favourite fish.
What is haddock?
A close cousin of cod, haddock (Melanogrammus aeglefinus) is a member of the Gadidae family, which includes coley, whiting and pollack. Although found on both sides of the Atlantic, haddock is more common in European waters, all around the Scottish coasts and as far south as the Humber estuary.
Typically weighing in at between one and three kilos, haddock feed on shellfish, sea urchins, worms and small fish like sand eels. Just like cod, haddock are demersal – bottom feeders with a goat-like piece of skin under their chin to help them locate food at murky depths.
The fish spend most of their lives in deep waters between 40m and 300m and have an average lifespan of between three and seven years.
Haddock have a purplish-grey coloured head and back that gives way to silvery grey with a pinkish tinge and a white belly. It is an elongated fish with a forked tail and three dorsal fins.
CLICK HERE TO BUY HADDOCK FILLETS
CLICK HERE TO BUY PEAT-SMOKED HADDOCK FILLETS
CLICK HERE TO BUY FINNAN SMOKED HADDOCK FILLETS
CLICK HERE TO BUY ARBROATH SMOKIES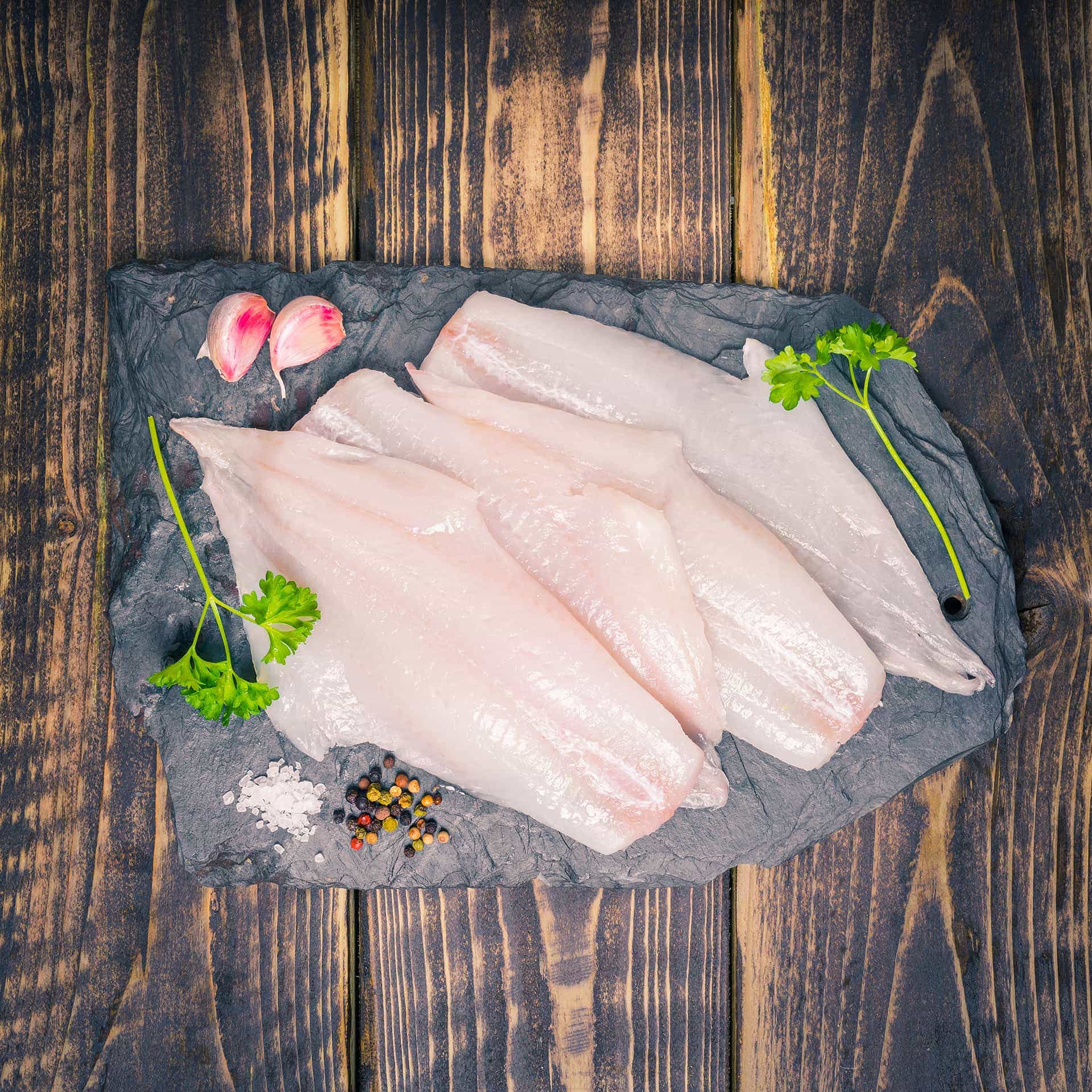 According to fish lore, the distinctive dark mark above the pectoral fin is said to be the fingerprint of St Peter, the biblical fisherman.
During the spawning season, from March to May, a female haddock can produce 300,000 eggs around the Scottish coasts and as far away as the Norwegian Deeps, taking from one to three weeks to hatch.
For a number of years there have been questions about overfishing of haddock. Stock numbers have grown and all haddock sold with the blue Marine Stewardship Council label is certified sustainable.
The fact most haddock is landed in northern ports means it is the fish of choice in fish and chip shops in Scotland and the north of England, compared to cod in southern regions of the UK, proving a clearly defined north-south divide.
With a mild flavour and moist texture, haddock is often swapped with cod but does have a slightly sweeter taste.
There are different styles of smoked haddock, all with very different flavours. Finnan haddock have a smoky taste while Arbroath smokies are a delicacy with a unique flavour, thanks to the traditional smoking methods used, which date back more than 200 years.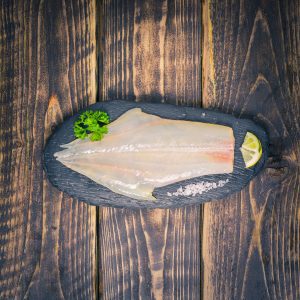 WHAT'S AVAILABLE?
The most common cuts of haddock are fillet, smoked fillet, finnan smoked fillet and Arbroath smokies.
Haddock fillets are taken from large fish, cut away from the bone lengthwise and parallel to the backbone. Unlike those you'll find in supermarkets, Fresh Fish Daily's haddock fillets are angel cut, which results in a 99% bone-free portion of fish.
Our peat-smoked haddock fillets – which are also angel cut – are smoked by our fishmongers in a kiln with woody chips for maximum flavour. We prepare our peat-smoked haddock fillets without additives or dye, unlike those you'll commonly find in supermarkets. Dye serves no purpose other than making the fillets stand out on the iced display and masking the freshness or otherwise of the fillets.
Finnan haddock or finnan haddie is on-the-bone smoked haddock. Cut with the skin and back bone still on, the fillets are salted and smoked over peat and green wood.
Arbroath smokies are a world-class speciality with Protected Geographical Indication status, just like Orkney cheddar and Stornoway black pudding. These small whole haddock – cleaned and with their heads removed – are hot smoked. Read more here.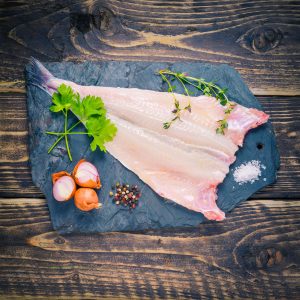 IS HADDOCK GOOD FOR YOU?
Absolutely. High in protein and low in calories, haddock is a good source of vitamins and minerals. Containing omega-3 fatty acids, haddock provides a wide range of health benefits, boosting the immune system and cardiovascular health.
Per 100g raw haddock
Energy 75kcal
Fat 0.4g (of which saturated fat 0.09g)
Protein 17.8g
Rich in vitamin B12, iodine, phosphorus, potassium, niacin and selenium.
HOW DO YOU COOK HADDOCK?
It couldn't be easier. Delicately flavoured haddock can be steamed, poached, shallow fried, deep fried or oven baked.
Fast and easy to work with, just be careful not to overcook to ensure the haddock is juicy and moist. If you want to check, cut or carefully break open the fillet on the underside. If it's ready, the flesh should break away easily and the inside of the fillet should be the same colour all the way through.
Tartare sauce is the traditional accompaniment if you decide to deep fry haddock fillets for a taste of traditional fish and chips at home.
Haddock is the fish of choice in fish and chip shops in Scotland and the north of England 
Bake haddock fillets with soured cream and capers in a simple recipe from Delia Smith's Complete Cookery Course (BBC Books, 1989). White wine, fresh tarragon, lemon, leek and watercress are all you need to make a midweek dinner that will be on the table in less than half an hour.
Use smoked haddock fillets as the main ingredient in flavoursome fishcakes, mousses and fish pie.
If you want to find out how to cook smoked haddock, there are endless options. Look for recipes with ingredients that perfectly match the deep, comforting flavours of the fish, from bacon and sweetcorn in a smoked haddock chowder to tomatoes and spinach in a classic smoked haddock gratin. Full of protein, the fish used in smoked recipes are a healthy choice.
Poaching enhances the flaky texture and sweet taste of smoked haddock. The deep, earthy, smoky flavour of finnan haddock fillets can be used in kedgeree and chowders. Meanwhile, the creamy flesh and luscious savoury flavour of Arbroath smokies is perfect for Cullen skink, smoked risotto or simply served with traditional accompaniments such as boiled potatoes and root vegetables. Just be careful to remove the bones when flaking off the fish as they are smoked whole to retain moisture.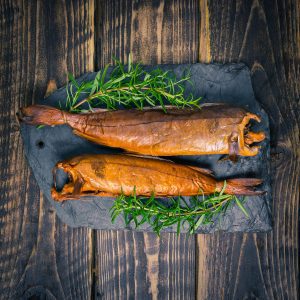 HADDOCK RECIPES
Recipes for haddock can be as straightforward as adding garlic, salt and pepper to fillets pan-fried with a knob of butter. Push the boat out – pardon the pun – and you can find a world of flavours to complement the sweet, soft fillets.
A sauce for haddock could be made with cheese or look for spinach and mustard in a good sauce for smoked haddock.
Popular haddock fillet recipes, smoked and unsmoked, to look out for are:
Smoked haddock fishcakes
Haddock mornay
Smoked haddock chowder
Baked eggs with smoked haddock
Haddock with parsley sauce
Roast haddock with asparagus and peppers
Smoked haddock gratin
Arbroath smokie pâté
HADDOCK VS COD
The deep-water cousins are an easy swap, though it's purely down to personal taste what texture and flavour you prefer, and the other ingredients in the recipe.
If you're still looking for help, consider Hugh Fearnley-Whittingstall and Nick Fisher's advice in The River Cottage Fish Book (A&C Black, 2007): "Haddock flesh is softer and breaks into smaller flakes than cod, and because it is more delicate it isn't as suitable for salting.
"As a result, haddock was traditionally preserved by drying and smoking. Smoked haddock is wonderful for so many dishes because of its lovely pervasive 'oaky-smoky' flavour."
CLICK HERE TO BUY HADDOCK FILLETS
CLICK HERE TO BUY PEAT-SMOKED HADDOCK FILLETS
CLICK HERE TO BUY FINNAN SMOKED HADDOCK FILLETS
CLICK HERE TO BUY ARBROATH SMOKIES